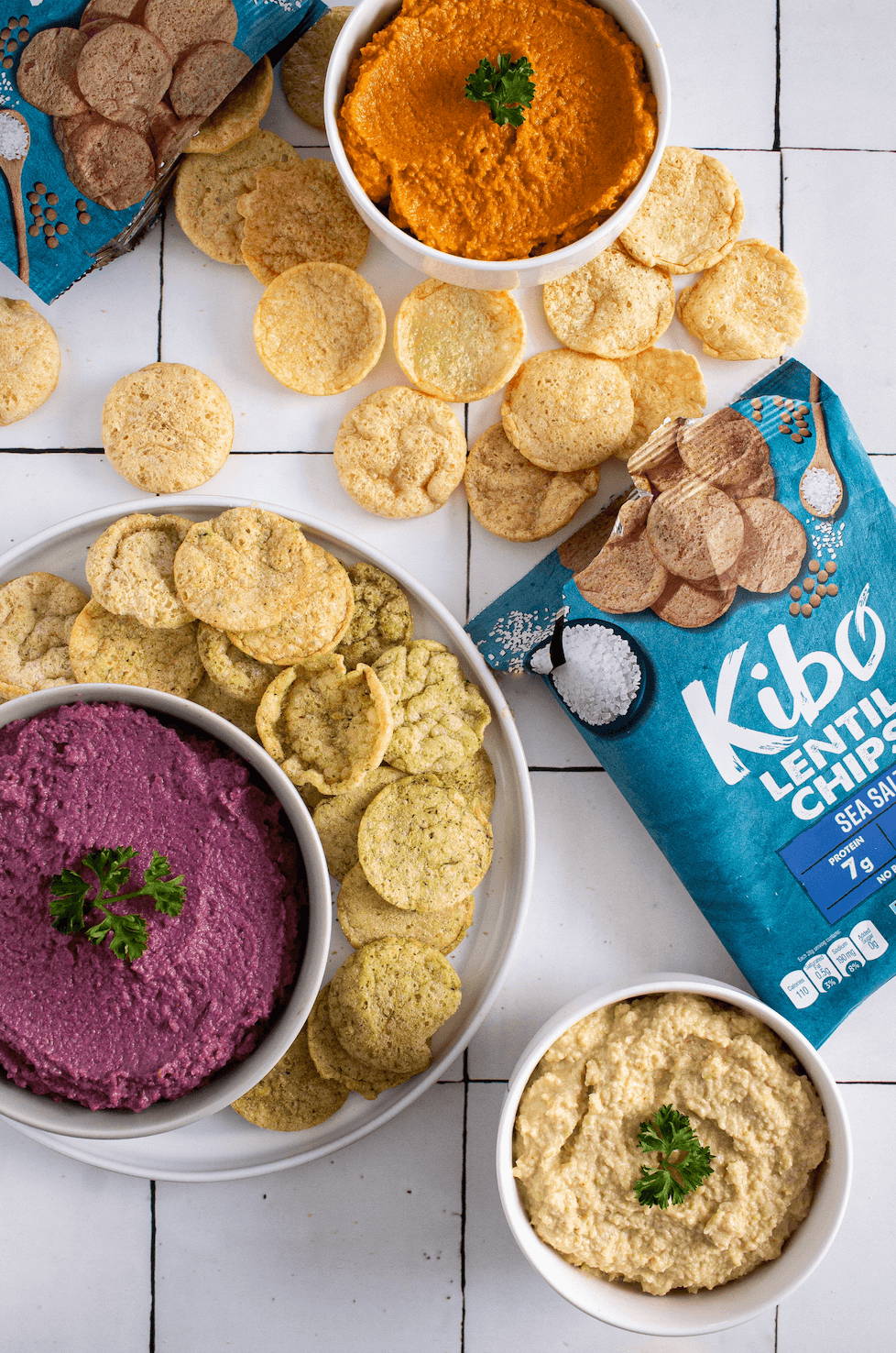 Chips and dip—they just go together! Maybe you're looking for something outside of the average hummus and guacamole for your next game night get together or backyard party. Or perhaps you could use a fun snack to keep in the fridge for hungry moments! We give you: some of our favorite gluten-free, plant-based dips for your Kibo chips to dive into. Have fun and dip to your heart's content!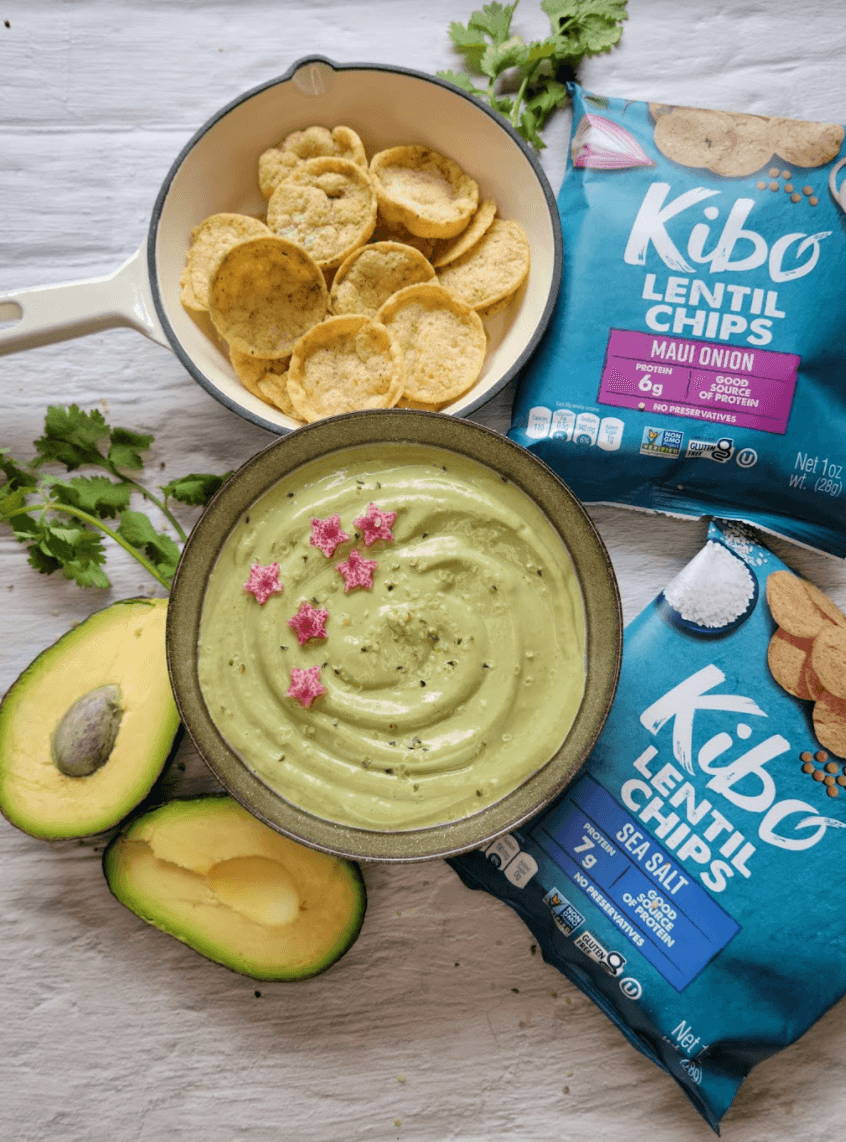 Filled with healthy fats from avocado, plant-based protein from tofu, and fresh, bright flavor thanks to cilantro and lime, this creamy dip is the perfect healthy dip for spring! Its silky, light texture lends well to eating with the delicate crunch of our lentil chips.
Ingredients:
1 container silken tofu, drained

1 avocado

½ cup cilantro

Juice from half of a lime

Sea salt and pepper to taste

Kibo Lentil Chips, Maui Onion or Sea Salt
*For added heat, crushed red chili pepper flakes, cayenne pepper, or fresh jalapeños can be added as well.
Instructions:
Blend all ingredients together until smooth. Some garnish ideas: hemp seeds, watermelon radish, lime zest, chili flakes, pomegranate arils. Dip with lentil chips and enjoy!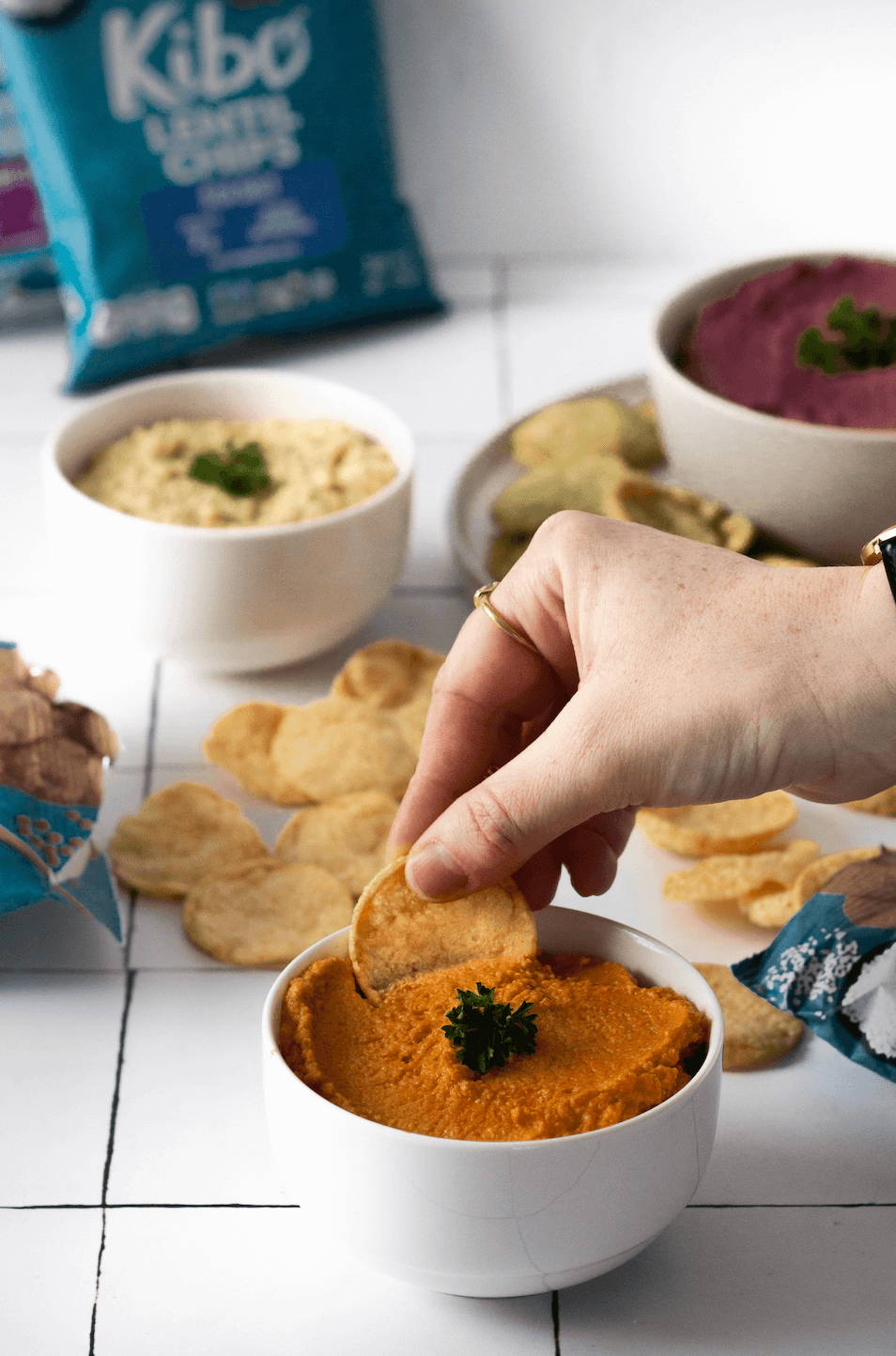 These colors just make us happy. No chickpeas around? Not to worry. This hummus dip is made using carrots and zucchini as the base! You'll still get some good plant-based protein in when you snack this dip with the lentil chips!
Ingredients (makes approximately 3 cups⁠)⁠:
2 medium zucchini, peeled and halved⁠

5 large carrots, halved⁠

⅓ cup tahini⁠

¼ cup lemon juice⁠

2-3 tablespoons garlic-infused olive oil⁠

1 teaspoon sea salt⁠

1 tablespoon harissa OR 1 teaspoon paprika, 1 teaspoon sumac, 1 teaspoon garam masala*⁠

1 tablespoon cumin*⁠
*Adjust to taste⁠
⁠
Instructions: ⁠
Preheat oven to 425 °F and line two baking sheets with parchment.⁠

Wash carrots and zucchini. Peel zucchini and slice lengthwise in half, then slice carrots lengthwise in half. Arrange carrots on one baking sheet, zucchini on the other as they will have slightly different roasting times.⁠

Place both sheet pans in the oven, roasting the zucchini for 12 minutes. The carrots will need 30-40 minutes; you will know they are done when they are soft to the touch but do not have to brown.⁠

While the veggies roast, add tahini, lemon juice, garlic-infused olive oil, sea salt, and spices to a food processor.⁠

Remove zucchini from oven after 12 minutes, allowing to cool at room temperature for another 12 minutes. Once the zucchini has cooled, add to the food processor and blend until smooth. If there are still larger pieces of zucchini left, not to worry as you will be adding the carrots once they are done roasting.⁠

When carrots are tender to the touch, remove them from the oven and allow them to cool at room temp for about 10 minutes. It's ok if they are still warm, just ensure they are not hot as it is not ideal to place hot food in a food processor!⁠

Once carrots have cooled, add them to the food processor and continue to pulse until the texture is smooth and creamy. During this process, taste the hummus and adjust flavors to taste.⁠

Store in an airtight container in the fridge. Hummus will keep 3-5 days.⁠ ⁠Enjoy!!
Cheeseless Jalapeño Popper Dip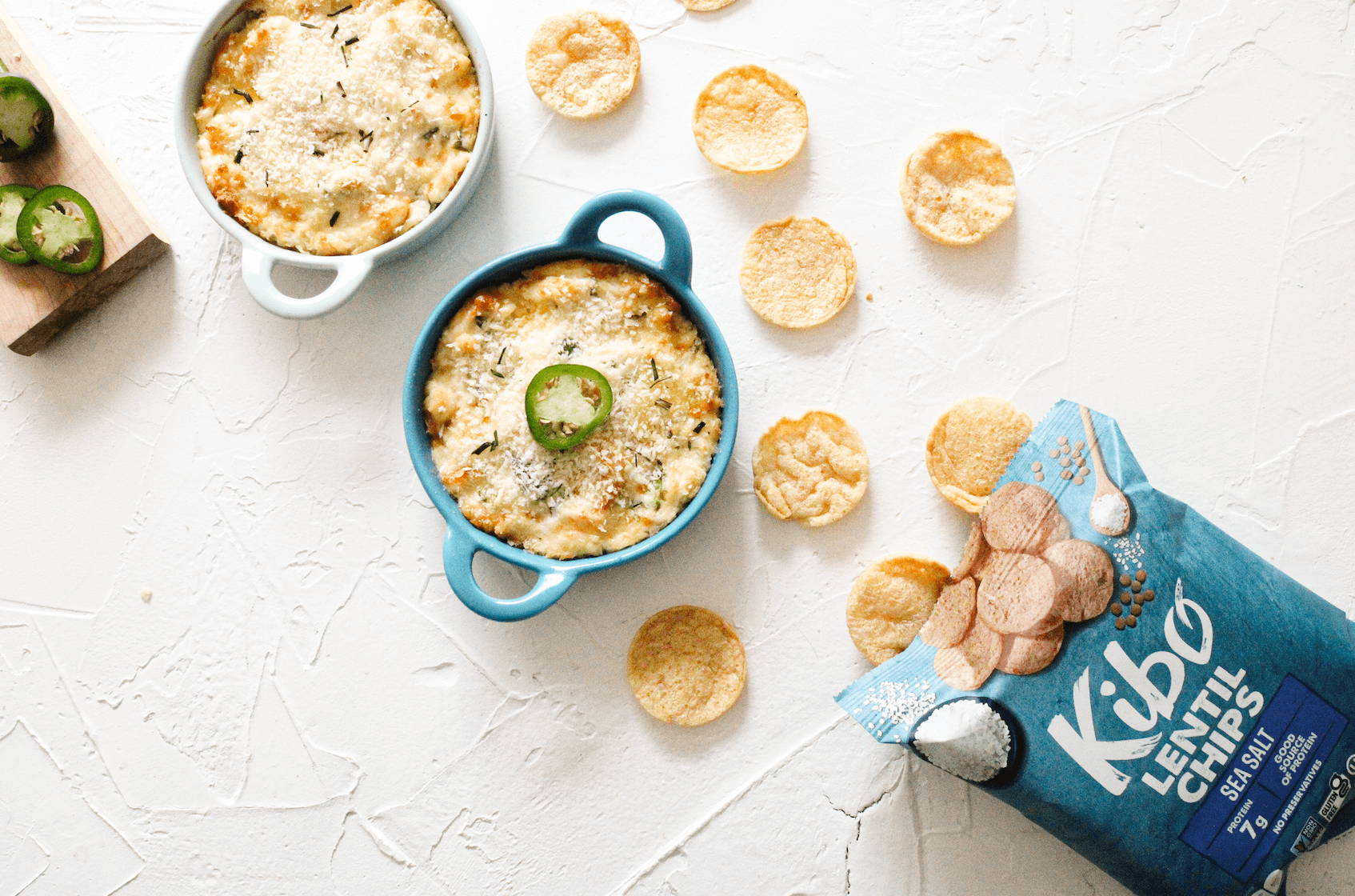 This hot dip hits all your cheesy cravings while being completely plant-based! But for those who have yet to brave into the world of vegan dairy, you can sub any of the below ingredients using their traditional dairy forms. Nom away!
Ingredients:
8 oz. vegan cream cheese

½ cup of vegan mayo

½ cup of vegan cheddar shreds

½ cup of vegan parmesan

½ cup of jalapeños, diced

2 garlic cloves, minced

½ cup Panko bread crumbs

1 tablespoon dried chives (optional)

Pinch of salt and pepper to taste
Instructions:
Preheat your oven to 375 °F and grease a pie pan, casserole dish or cast iron skillet.

Combine all ingredients except chives and bread crumbs in a medium bowl and mix well!

Pour the mixture into the pan and top with bread crumbs and chives.

Cook for 20 minutes. The top should be golden brown and you should see bubbles!

Eat immediately with Kibo chips or store in an airtight container in the fridge for up to 4 days.
Have more fun ideas for dips to go with your Kibo chips? Tag @kibofoods in your recipes!