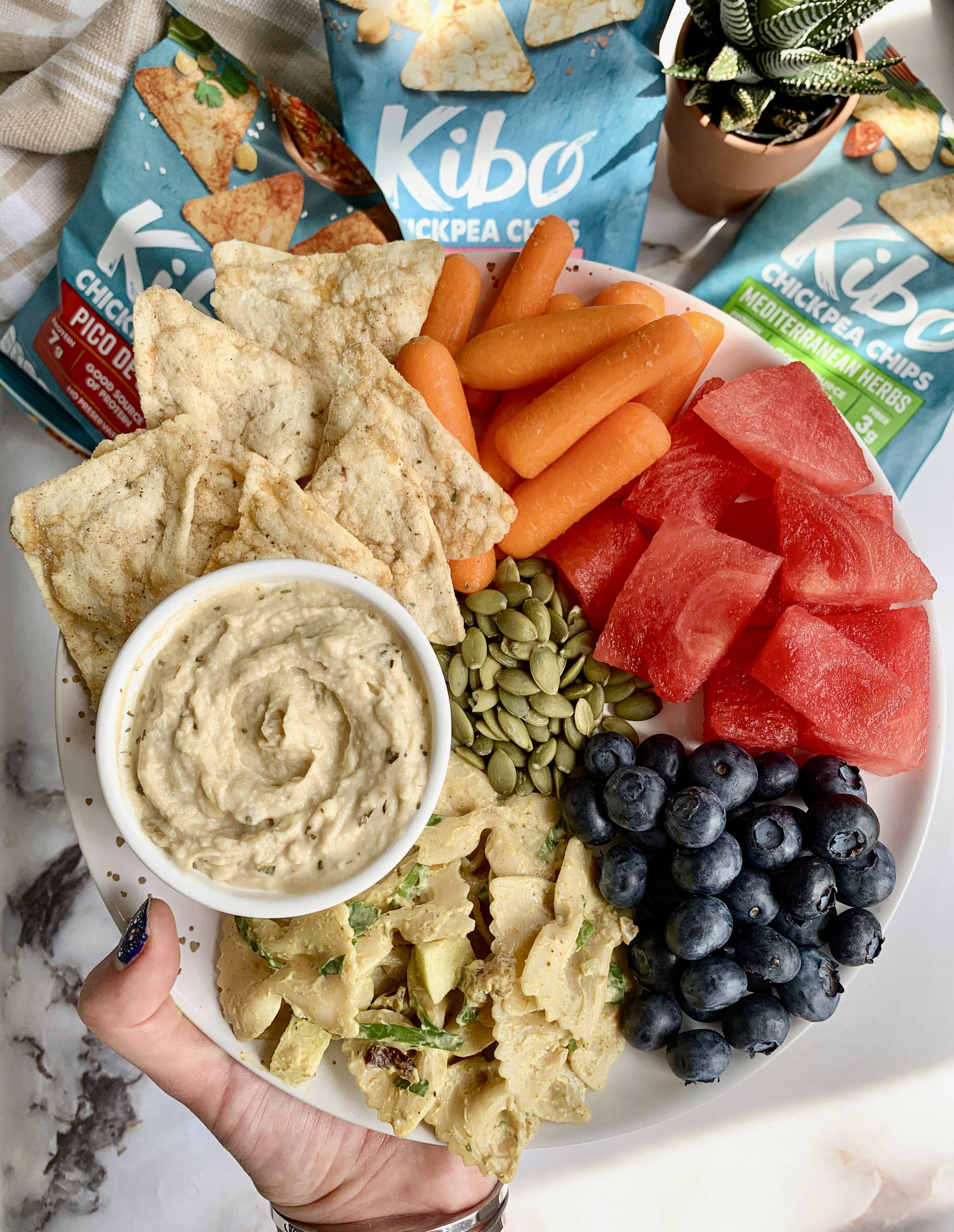 Sick of the same salads you've been eating on repeat throughout the week? We love our fresh greens, but let's be real—those virtuously leafy plates can start to feel a little lackluster over and over again. When you're craving a heartier meal, welcome these plant-based lunch bowl ideas—courtesy of some of our favorite Instagram foodies!
What have we learned from these social media accounts about the art of putting together a great vegetarian lunch bowl? Make it feel substantial—full of things that will fill you up and excite your taste buds. Also, incorporate different flavors and textural elements, like something crunchy, something starchy, and something creamy.
Eating a hot meal can make you feel more cared for in the middle of a busy day, so consider starting with a healthy gluten-free "grain" to warm your belly, like quinoa, chickpea rice, or brown rice. Build with whatever cooked veggies you have around—roasted red peppers, air fried brussel sprouts, or sauteed shroomies! This is a great chance to use up the odds and ends you don't want to go to waste. Finish with over-the-top add-ons like a spicy sauce, vegan cheese, a dash of seeds or microgreens for some extra vitamins and minerals, and fresh cherry tomatoes for a burst of umami flavor.
LEAF the same old salads behind for a change! Loaded with flavor, supercharged with nutrition, and of course, complete with a welcome side of gluten-free Kibo crunch, these healthy lunch bowls are ANYTHING but boring. We've got all the "d-eats" below.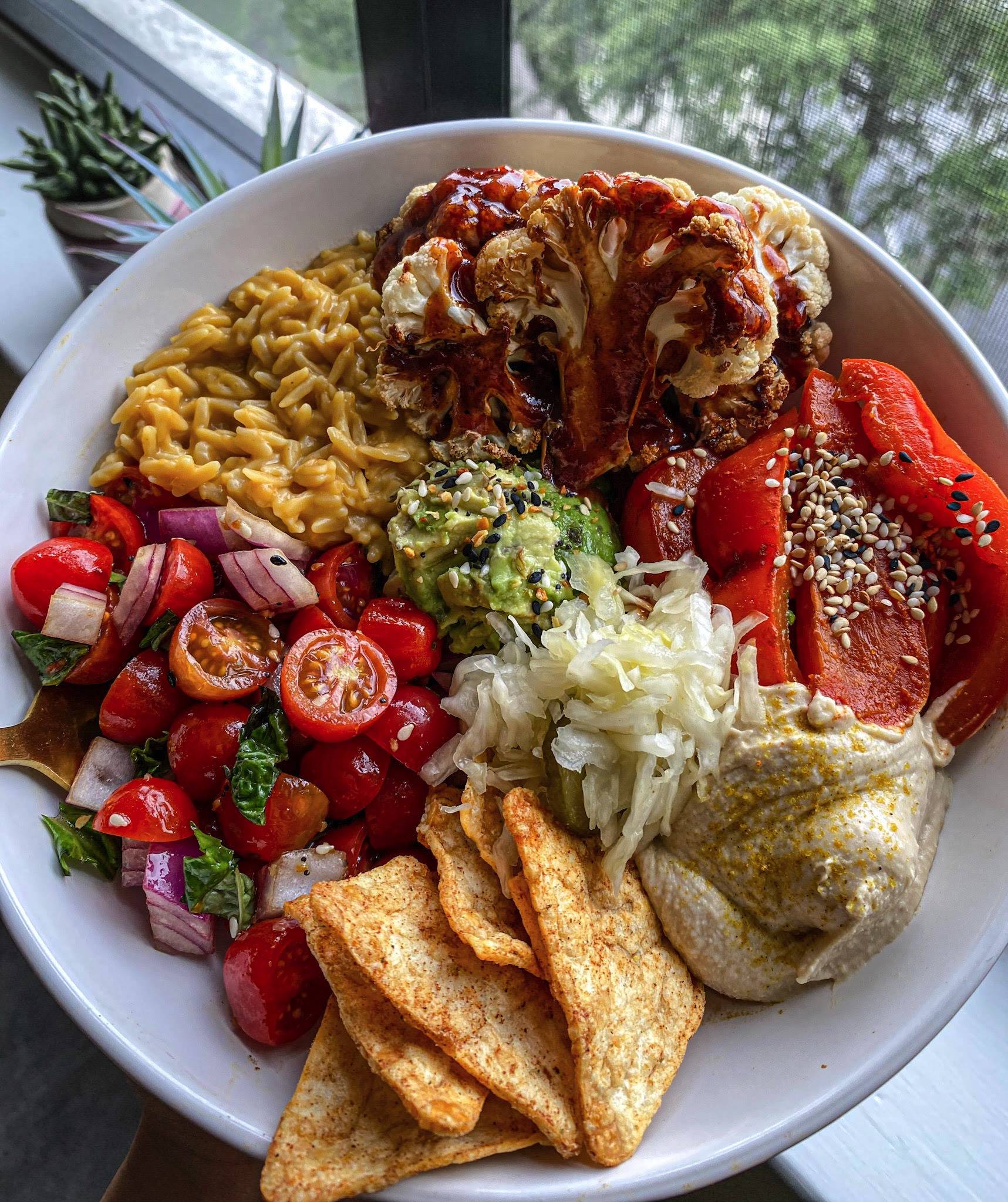 We're not drooling, you're drooling! This big gluten-free and vegan bowl even features a hit of probiotics (from the sauerkraut) for making you feel extra satiated after lunch. Along with a handful of chickpea chips, @upbeetandkaleingit added the following: "some tomato, basil and onion balsamic salad, sauerkraut, barbecue cauli, chickpea rice, garlic hummus, avo and sauteed bell pepper!"  
Buddha bowls are all about balance, with small portions of different veggies so you can cover a variety of nutrients—and hit alllll your taste buds! If you need inspiration for a gluten-free, vegan buddha bowl, look to @curtinkitchen. "I created a buddha bowl to go with my chips 🥰🤩. Buddha bowl d-eats: air-fried brussels sprouts, roasted sweet potatoes, roasted red pepper hummus, quinoa, and black beans over a bed of lettuce with Kibo Mediterranean Herbs Chickpea Chips!!"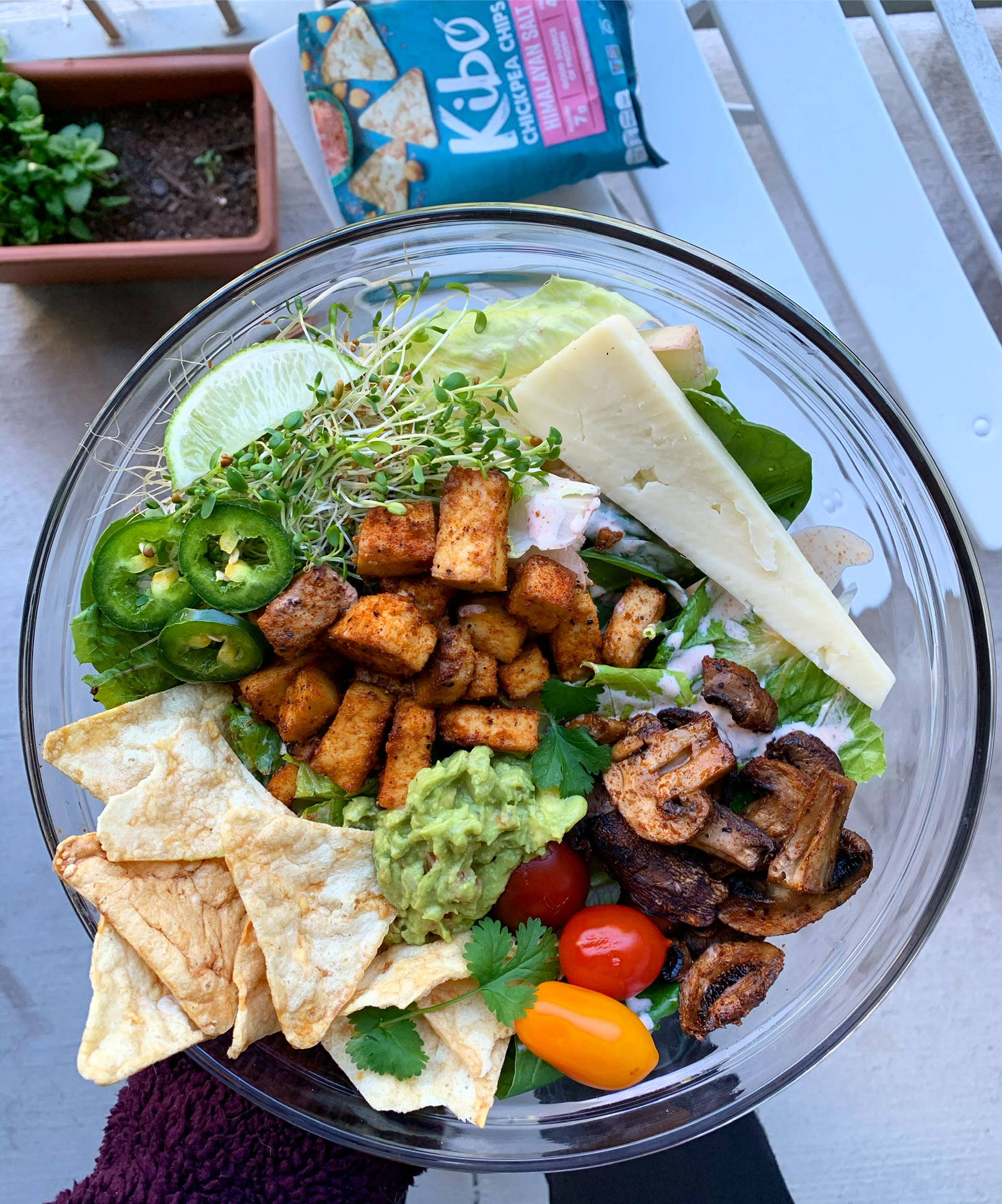 Just a handful of Kibo chickpea chips, a sprinkling of sprouts and a few slivers of jalapeno can take your bowls to the next level. "Only @kibofoods Himalayan Salt chips have tons more fiber and protein than regular tortillas. They're surprisingly made with a little nutritious powerhouse: chickpeas! Make them into a fibrous party and toss them on a salad!"
Here's what @frothyoatmilk put in her gluten-free lunch bowl:
@kibofoods

as the crunchy star of the show 🤩

mixed baby spinach and romaine

alfalfa sprouts

baked Cajun tofu and mixed mushroom

jalapeño, lime, and cilantro

Asiago Fresco wedge

creamy yogurt dressing

cherry tomatoes

guac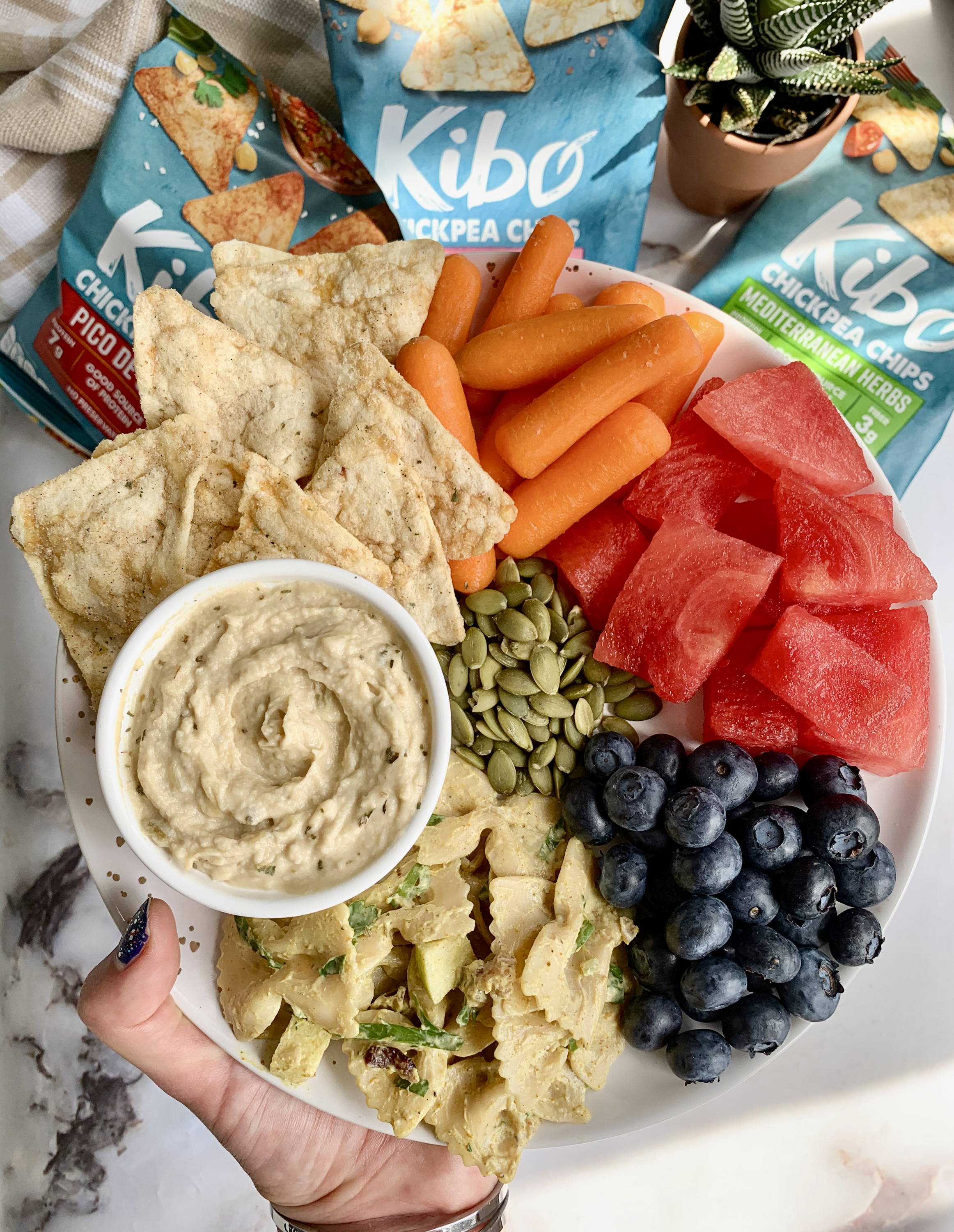 Proof that good vegan lunches aren't just about veggies. Lest we forget about fruit: popping some berries on your plate ensures you get some added antioxidants and fiber into the mix. From @niki_booch:
"Snack plate d-eats: carrots, @kibofoods Mediterranean Herbs Chickpea Chips, watermelon, blueberries, curry pasta salad, raw pumpkin seeds, and citrus + herbs hummus (recipe below!)
CITRUS + HERBS HUMMUS:
-1 15.5 oz can chickpeas, skins removed
-1/4 c orange juice
-2 tbsp lemon juice
-2 tbsp extra virgin olive oil
-1 tbsp tahini
-1 clove garlic, peeled + chopped
-1 tbsp fresh parsley
-1 tbsp fresh mint
-salt + pepper, to taste
ADD all ingredients to food processor or blender and blend until smooth! *add in additional liquid if necessary or depending on desired texture*"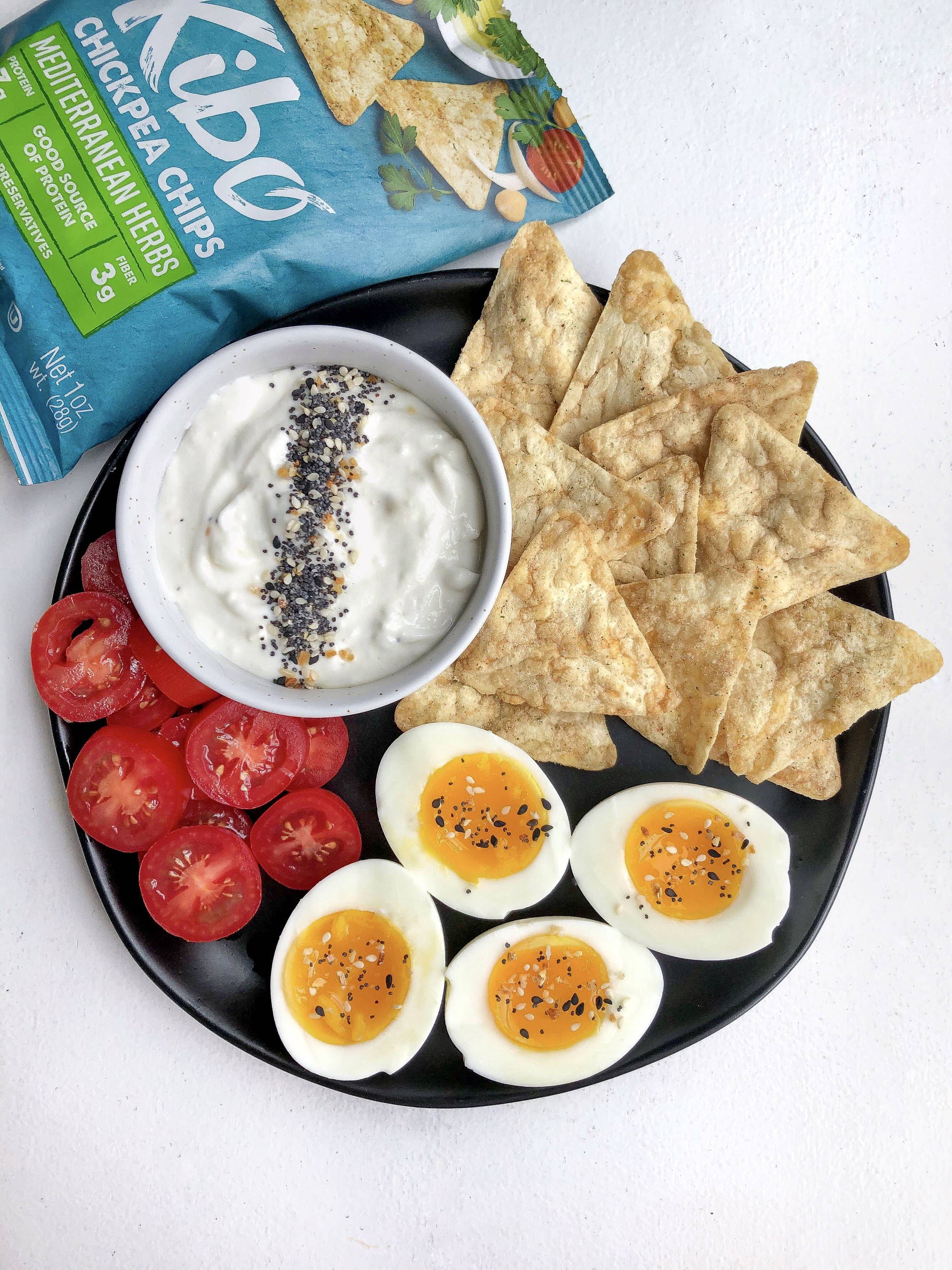 Soft or hard boiled eggs: great protein in such a delicious vessel! When you're looking for something simple to throw together for a gluten-free lunch, prep some boiled eggs and dip on Sunday night and chop up a few veggies you have on hand. During the week, just throw everything together, no prep required. From @munchin.withmar:
"D-eats: @kibofoods Mediterranean Herbs Chickpea Chips, soft boiled eggs, tomato and EBTB ("Everything But the Bagel") cottage cheese dip (recipe below)
1/3 cup cottage cheese
1/4 cup greek yogurt
1/4 cup feta
1/4 tsp garlic powder
2-3 tsp EBTB (seasoning)
Blend all ingredients in the food processor!"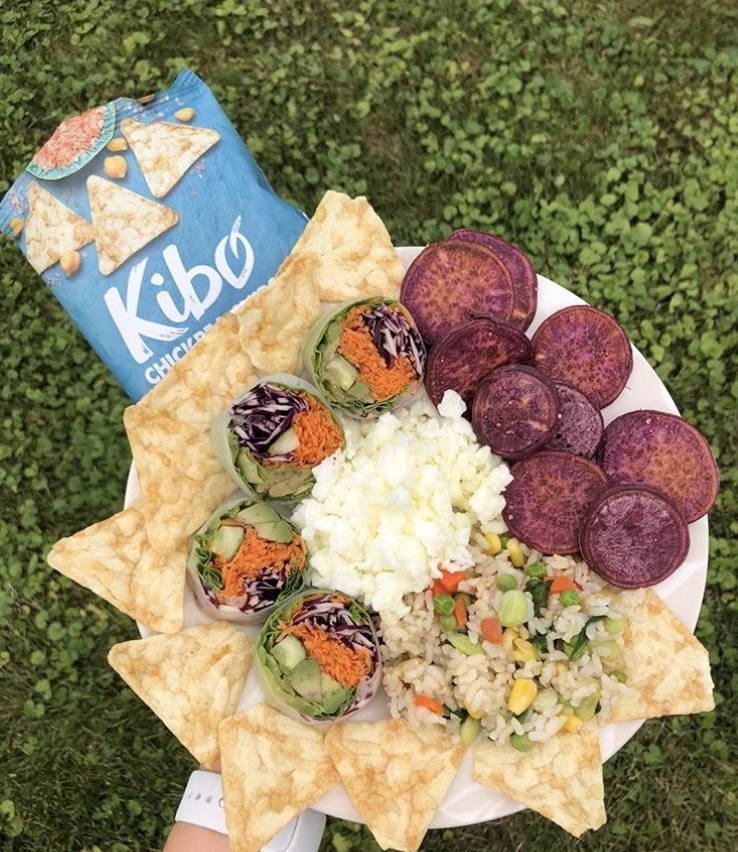 The best thing about lunch bowls? Your leftovers get new life. Yesterday's veggie spring rolls or that brown rice you couldn't quite finish with dinner might be less than thrilling to eat on their own, but added to one big lunch bowl they become infinitely more fun to consume. We're ALL about using up the food you have and sparing waste! From @wild.healthy:
"Lunch d-eats: @kibofoods Himalayan Salt Chickpea Chips with a purple potato, egg whites, brown rice with mixed steamed veggies and veggie rolls with avocado!✨🥑🍠"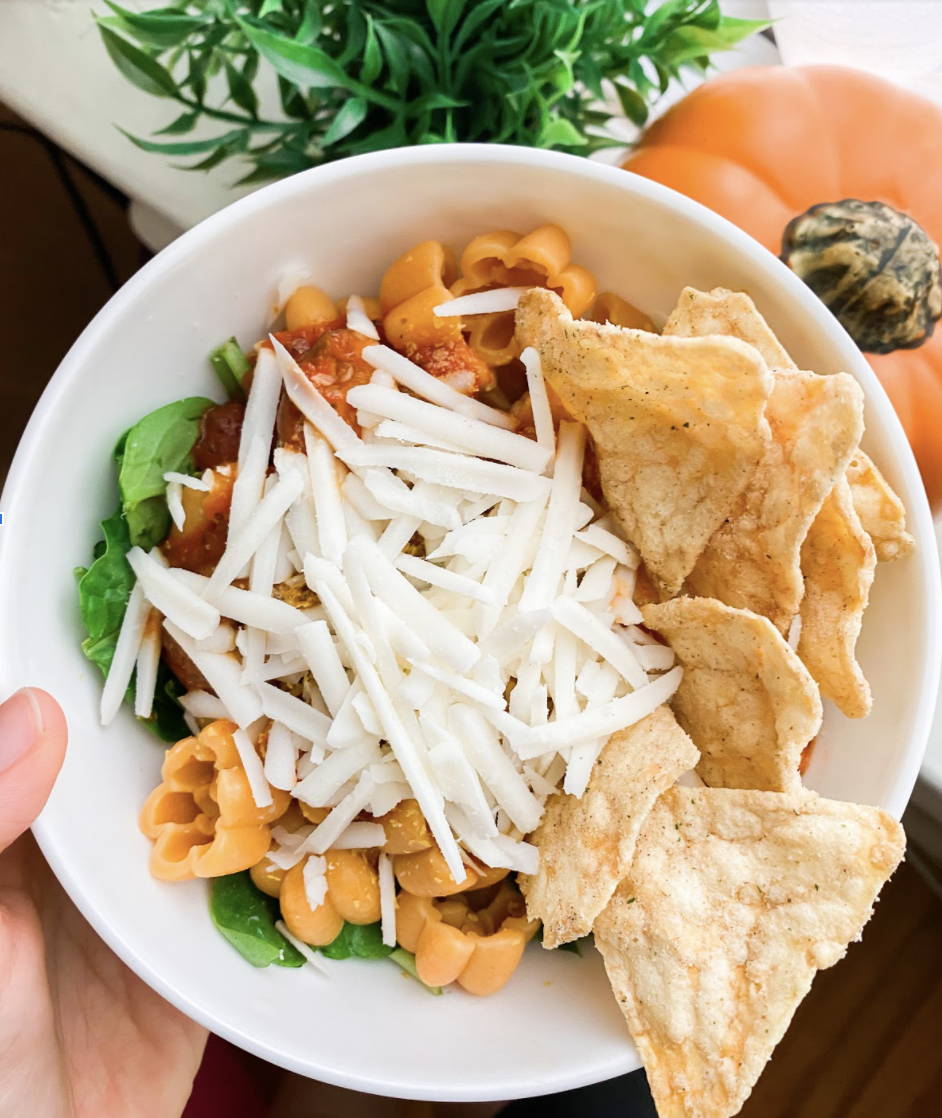 Add a little pasta to your lunch bowl—and make it seasonal when harvest weather rolls around! We love the generous topping of vegan shredded cheese on this one. From @vegarina_:
"~D-EATS~
a bed of spinach, pumpkin shaped pasta made from butternut squash, tomato sauce & @goodplanetfoods mozzarella cheese😍+ Kibo chips!"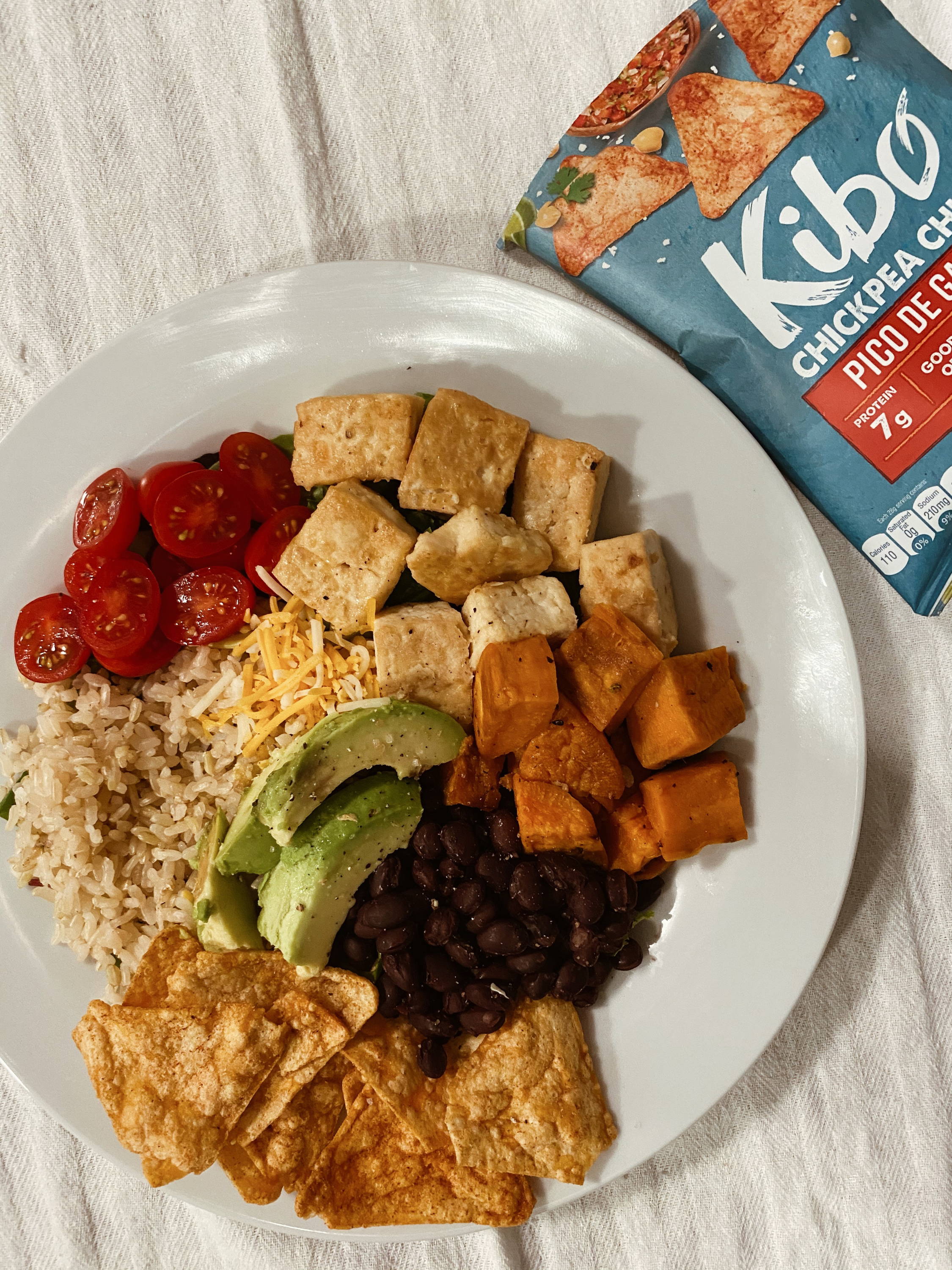 This hearty plate is heaping with yummy protein, fiber, and filling gluten-free elements to help you power on, way past that usual 2 o'clock slump! From @taras.tastes:

"D-eats: base of spinach topped w/ brown rice, sweet potato, tofu, black beans, tomatoes, cheese, avo, & Pico de Gallo @kibofoods Chickpea Chips!"
We hope this post has encouraged you to get more fun out of healthy lunches and go bold experimenting with what you have on hand! Add Kibo Chickpea Chips to any meal for some extra protein, fiber and crunchy flavor. Have a lunch bowl idea to share? Tag us in your Instagram posts! We love seeing the creative things that our customers come up with.