TERIYAKI
INGREDIENTS: Teriyaki Sauce [Water, Rice, Bell Pepper, Pear Juice Concentrate, Garlic, Onion, Coconut Aminos (Coconut Tree Sap, Sea Salt), Mushroom, Ginger, Rice Vinegar, Sesame Seeds, Dried Bell Pepper Granules, Xanthan Gum, Salt, Cayenne, Ground Black Pepper, Green Onion], Precooked Long Grain Rice, Pea Protein.

Contains: Sesame Seeds, Tree Nuts (Coconut).

TIKKA MASALA
INGREDIENTS: Tikka Masala Sauce [Diced Tomatoes (Tomato Juice, Salt, Calcium Chloride, Citric Acid), Water, Onion, Coconut Milk (Coconuts, Water, Guar Gum), Tomato Paste, Tikka Masala Seasoning (Maltodextrin, Salt, Spices, Garlic Powder, Tomato Powder, Onion Powder, Turmeric, Sugar, Natural Flavor, Paprika Extract), Ginger, Coconut Oil, Lemon Juice, Garlic, Xanthan Gum, Coconut Sugar], Precooked Long Grain Rice, Pea Protein.
Contains: Tree Nuts (Coconut).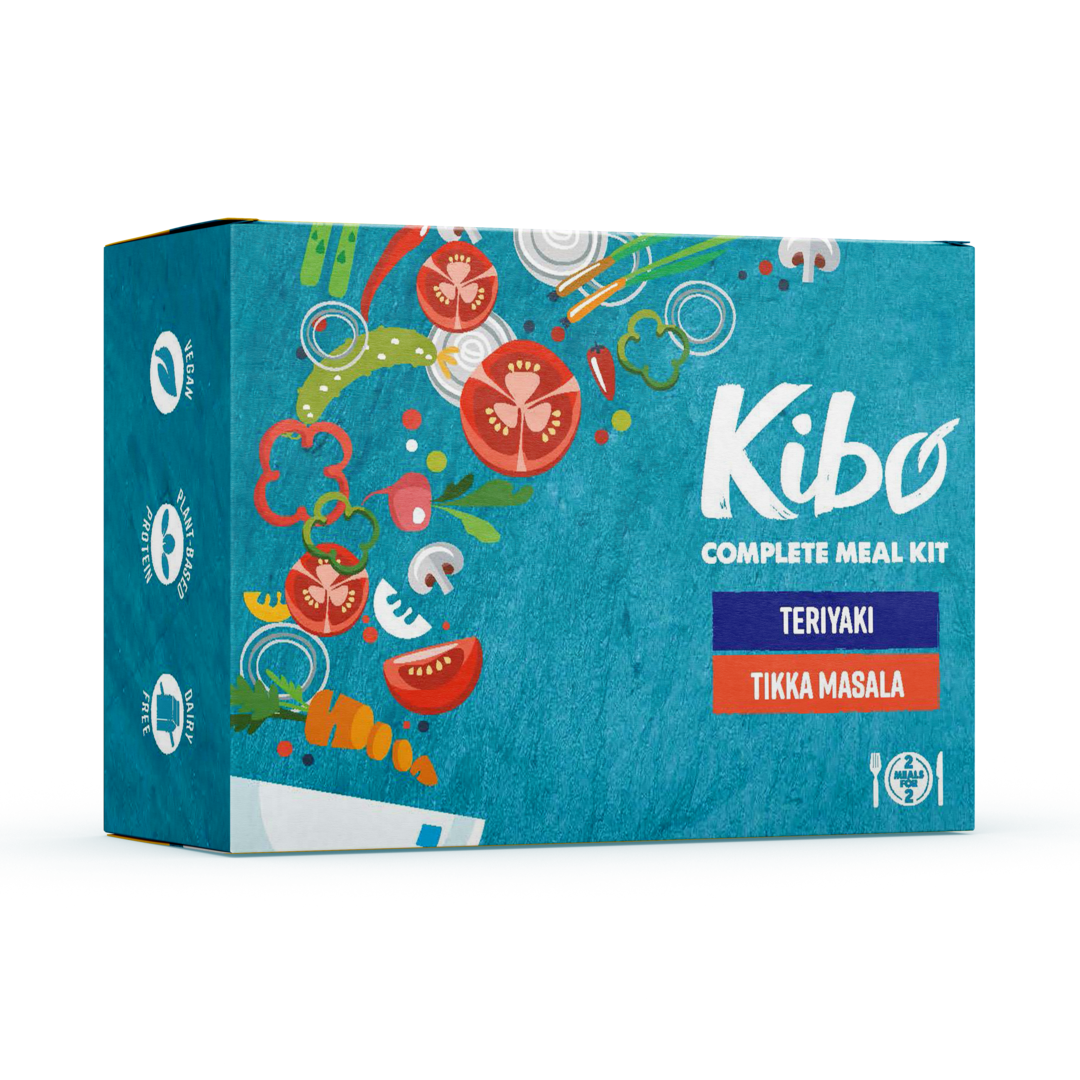 Never A Dull Mouthful
We set out to make the most delicious, sustainably-packaged, and nourishing meals out there, and we're pretty sure it doesn't get better than this. With two flavors to enjoy, this hot meal comes together in one pot, in 10 minutes, and in full, plant-based glory.
The tikka was great with the plant protein
Complete Meal Kit
It was filling , hearty and delish!!!! LOVED it!!! So good!!! I am now waiting for my chips to arrive!!! EXCITED 😊 can't wait to try them!!!
Excellent!!!
Tried the Tikka Masala lastnight. I loved it. It was prefectly spicy. Will definitely buy again. My husband even liked it, and didnt eat a sandwich after dinner! He reached for the kibo chickpea snacks! 😆 Thank you for the great meal❤
Easy meals
I like the teriyaki but the other one is too spicy. I discovered if I cook it a little longer, I don't have chewy protein bits which is rather gross. I hope I can buy just the teriyaki by itself.
NEVER A DULL
MOUTHFUL
All of the mmm. None of the meh. Prepare your taste buds for impossibly delicious (and always nutritious) foods. Every bite is better than the next — and better for you.